News & Updates
won't you celebrate with me
Rev. Dr. Danté Quick January 16, 2022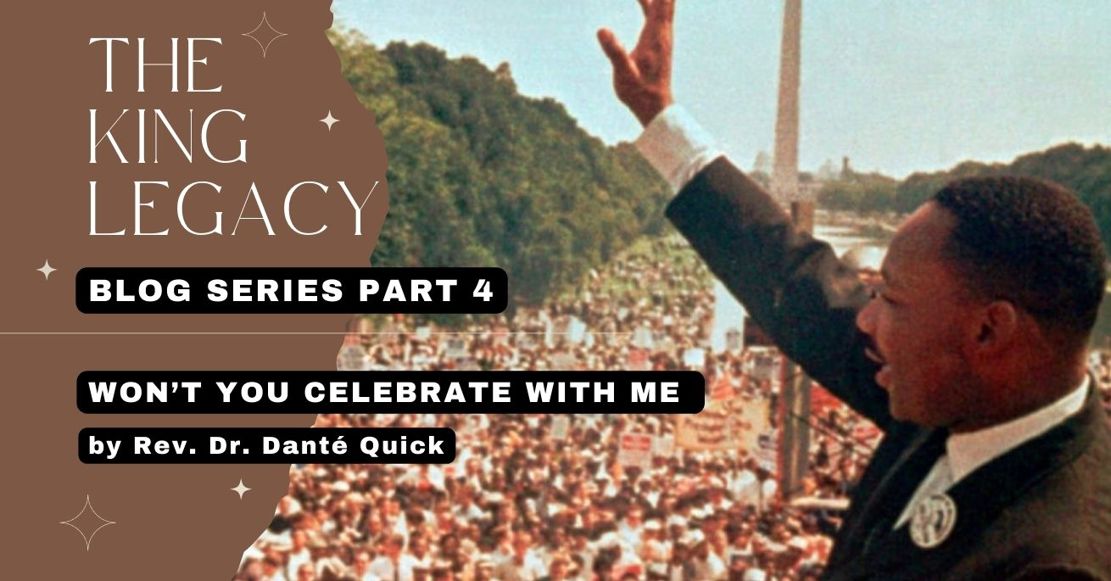 In commemoration of the Rev Dr Martin Luther King Jr holiday, Crossroads offers a series of reflections from the Rev. Dr. Danté Quick.
won't you celebrate with me
what i have shaped into
a kind of life? i had no model.
born in babylon
both nonwhite and woman
what did i see to be except myself?
i made it up
here on this bridge between
starshine and clay,
my one hand holding tight
my other hand; come celebrate
with me that everyday
something has tried to kill me
and has failed.

Lucille Clifton (1936-2010) from Collected Poems of Lucille Clifton. Copyright © 1991 by Lucille Clifton.
Born in Babylon…born in Babylon! That is the reality of Black women in this country. She is the most desired and yet the most scorned form of humanity in the American context. Think about it…from the time her feet were planted on the shores of the Americas, her body became a prime instrument of capitalism. Rape was a critical form of production as her children of multiple hues were ripped from her arms and shipped to other plantations…she was born in Babylon.
Even today…Black women are being born in Babylon, across all socioeconomic levels. Black women are about 3 times more likely than white women to die from preventable birth-related complications. Three times! Even today…Black women are less likely to be diagnosed with breast cancer but more likely to die from it due to lack of early detection and insufficient access to high quality healthcare! Born in Babylon! Though she has suffered from the trifecta of "isms" born of white supremacy: racism, sexism and classism…though she is being born in Babylon…she is yet undaunted! Indeed studies are now showing that Black women are the most educated group in America.
What has this to do with a reflection on the Rev. Martin Luther King Jr., Ph.D.? Unfortunately, most often, studies of the Civil Rights Movement are trapped in masculine wrappings that often render the role of Black women invisible. This is a result of the patriarchal orientation of Western knowledge construction. However, Dr. King was not ignorant of the enormous reservoir of "Black Woman Magic!" In fact, in his history of the Montgomery Bus Boycott, "Stride Toward Freedom," King is clear about the role of Black women:
Another loyal driver was Jo Ann Robinson. Attractive, fair-skinned, and still youthful, Jo Anne came by her goodness naturally. She did not need to learn her nonviolence from any book. Apparently indefatigable, she, perhaps more than any other person, was active on every level of the protest. She took part in both the executive board and the strategy committee meetings. When the MIA newsletter was inaugurated a few months after the protest began, she became its editor. She was sure to be present whenever negotiations were in progress. And although she carried a full teaching load at Alabama State, she still found time to drive both morning and afternoon.
Not familiar with her name? Well…it was Robinson who stayed up all night mimeographing 35,000 handbills calling for the boycott of the Montgomery bus system with the assistance of John Cannon, Chair of the Business Department at the Alabama State College, along with two students. Robinson was well-educated, attending Fort Valley State College, Atlanta University and Columbia University. She along with Septima Poinsette Clark, Ella Baker, Fannie Lou Hamer, Dorothy I. Height, Daisy Bates and Diane Nash are just a few of the towering women that are cloaked by the veil of patriarchal historiography.
No, I am not suggesting that Dr. King was not trapped in a male dominated mindset; black and white thinking of that sort creates false binaries. Yet, Dr. King understood that the movement would have been rendered ineffective without the critical contributions of multi-tasking Black women. Indeed, after his death, it was the Queen King, Coretta Scott, that advanced the cause! I had the great privilege of working with Mrs. King on behalf of then Governor Zell Miller. I can attest firsthand to her glory and elegance of strength and intellectual prowess.
As we reflect on the birth, life and death of Dr. King, I admonish us all to lift the veil of invisibility which attempts to smother the spiritual genius that resides in Black women! Our mothers, sisters, daughters and memas who have borne the weight of our community for far too long without the honor that they are so richly due! This year, highlight the living liberators within our communities and indeed…in our homes. If we are to honor Dr. King, we must emancipate our sisters from Babylon and its health inequalities. We must advocate for equal pay for equal work and protect her right to control the destiny of her own body! We must extend his legacy by opening the doors wider for Black women to create their own legacies. We must answer the question so beautifully and powerfully posed to us by the master wordsmith, Lucille Clifton, and celebrate with her!!!
---
About Rev. Dr. Danté Quick
Rev. Danté R. Quick, Ph.D., Senior Pastor of First Baptist Church of Lincoln Gardens, Somerset, New Jersey is a popular lecturer and writer. He is well known for his research and expertise in Philosophical and Systematic Theology with a focus on African American Studies. His work is considered an important resource for religious educators.
---
Recent Posts
#ThinkTheatre
Theatre is mind expanding. It's a safe way to visit dangerous places.
---