News & Updates
Remembering Colin Powell
Sandy Hahn Lanman October 18, 2021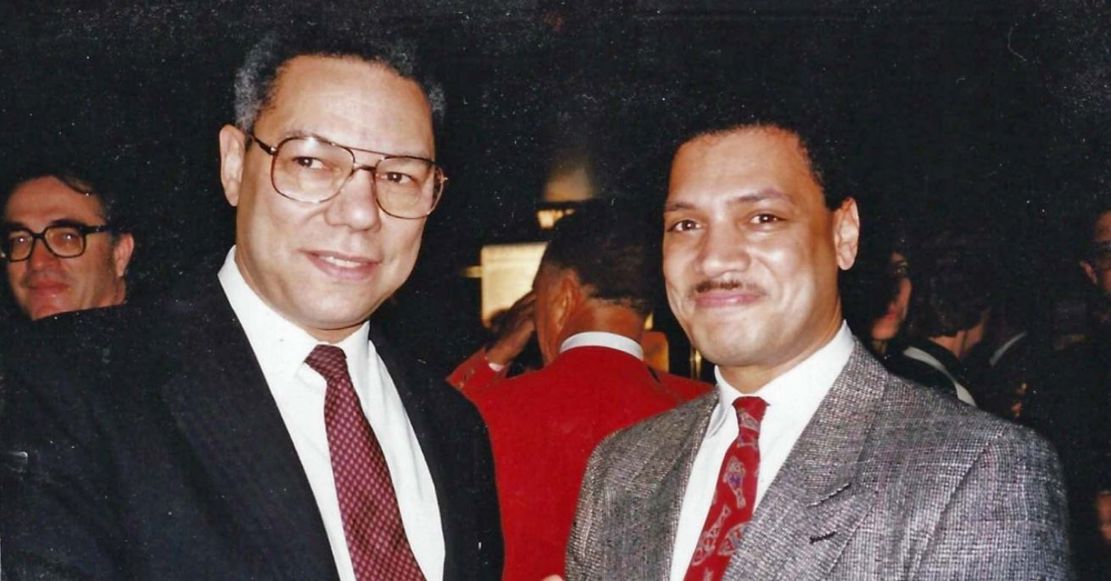 As a PR person in both theatre and higher education, I was privileged to be in the presence of some truly legendary people during my career. In 1991, when I was the publicist for Crossroads Theatre Company, we brought Black Eagles, a play about the Tuskegee Airmen, to Ford's Theater in Washington, D.C. On opening night, General Colin Powell attended, and I caught this shot of him with Crossroads' co-founder and artistic director Ricardo Khan during the pre-show reception.
After the play, he joined us for the opening night party at a local restaurant and greeted everyone who wanted to shake his hand. It was during the height of the Gulf War, when you wouldn't have expected General Powell at such an event; but not only did he come, but he enjoyed the show so much that he told President George H.W. Bush, a former WWII airman, that he should see it too. A few days later, the President came, amidst super high security. After that, he invited the cast and a group of Original Tuskegee Airmen who were in town to the White House for an event that was televised live, mainly because the media was hungry for a presidential update on the war. What a week that was!
Rest in peace, General Powell, a true American hero.
Recent Posts
#ThinkTheatre
Theatre is mind expanding. It's a safe way to visit dangerous places.
---