News & Updates
CROSSROADS THEATRE COMPANY TO HONOR DENZEL WASHINGTON WITH FIRST LIVING LEGENDS AWARD
July 23, 2019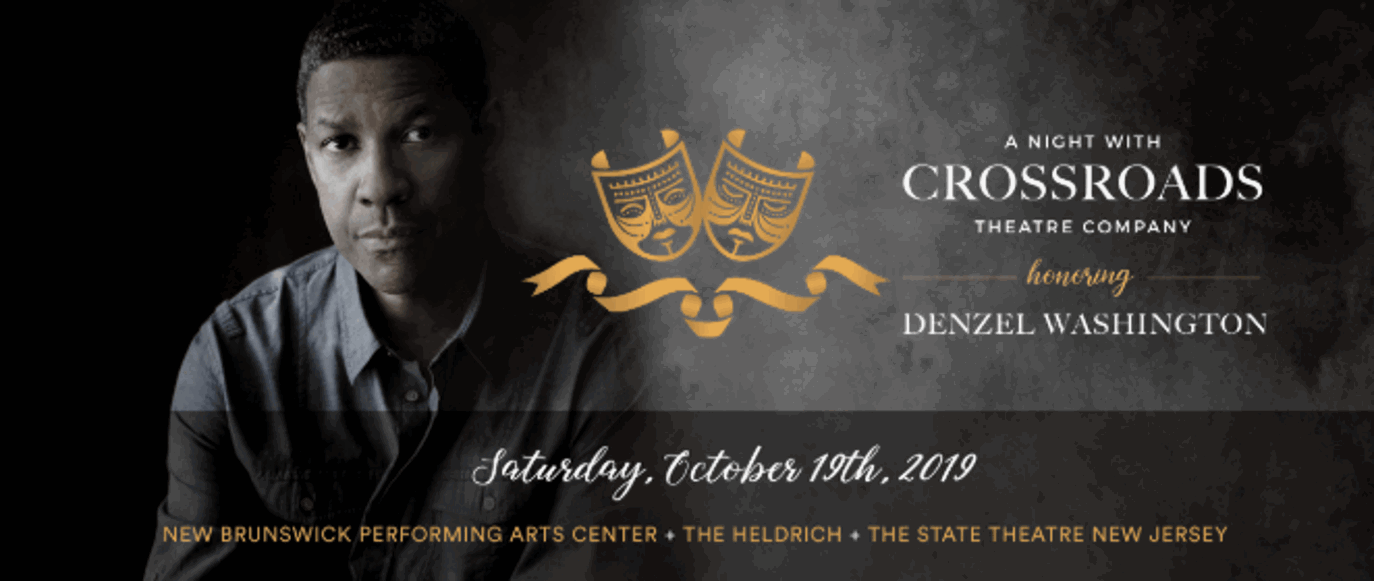 CROSSROADS THEATRE COMPANY TO HONOR DENZEL WASHINGTON WITH FIRST LIVING LEGENDS AWARD
CONTACT: Mona Terrell Wallace
mona@monaterrell.com
(732) 882-9513
NEW BRUNSWICK, NEW JERSEY – JULY 23, 2019 – Award-winning actor Denzel Washington will be the recipient of Crossroads Theatre Company's (CTC) inaugural Ossie Davis & Ruby Dee Living Legends Award at its signature fundraising event, on October 19, 2019, the Crossroads Theatre Board announced today. A Night With Crossroads Theatre Company, a gala that will feature special receptions and performances by CTC alumni and noted entertainment personalities will be held at the Heldrich Hotel and the State Theatre in New Brunswick, NJ.
The Tony Award-winning Crossroads Theatre Company (CTC), now a resident theatre of the New Brunswick Performing Arts Center (NBPAC), is in its fourth decade of being a preeminent gateway for black theatre that has been the stage for many actors, directors, designers, writers and other theatre professionals. Since opening in 1978, CTC has built a rich and storied history, celebrating the culture, history, spirit and voices of the African Diaspora.
"We are pleased and proud to celebrate and recognize Mr. Denzel Washington for his lifetime achievements with our first Ossie Davis & Ruby Dee Living Legends Award," said Anthony P. Carter, Crossroads Theatre Company Board Chairman. "As part of our coming home festivities, Crossroads has created the award to recognize a prominent person(s) from the arts and entertainment community who emulates the activist voice, vision and value of its namesakes and whose body of work illustrates best-in-class acting and portrayal of people, places and promise," Carter added. More than a performing couple, Davis and Dee used their gifts to bring the civil rights movement to the national stage and the small and big screen and to nurture and cultivate acting, directorial and production talent.
Washington began his professional acting career in New York, where he performed in theatre productions such as Ceremonies in Dark Old Men, Othello, and When The Chickens Come Home to Roost. He rose to fame when he landed the role as Dr. Phillip Chandler on the NBC long-running hit television series, St. Elsewhere. As Denzel crossed over into the world of film, he garnered critical acclaim for his portrayal of real life figures. Denzel's unforgettable performances have garnered him two Academy Awards; three Golden Globes, including the Cecil B. DeMille Lifetime Achievement Award; and the American Film Institute Lifetime Achievement Award, one of the highest honors for a career in film. Denzel Washington has also been a mentor, benefactor and inspiration for many of today's best actors and actresses. Up next for Mr. Washington is producing Ma Rainey's Black Bottom for Netflix which will be directed by George C. Wolfe and will feature Viola Davis, both Crossroads Theatre Company alumni.
"NBPAC is delighted to join Crossroad Theatre Company, one of New Jersey's premiere cultural assets, in commemorating and acknowledging Denzel Washington's stellar career accomplishments," said Chris Paladino, President of the New Brunswick Development Corporation (DEVCO), the arts center's developer. "We all look forward to a wonderful evening with Denzel Washington, entertainment luminaries and Crossroads long-time patrons and theatre-going supporters," he added.
Honorary Co-Chairs for the A Night With Crossroads Theatre Company gala are film, television, and theatre director and playwright Charles Randolph Wright and Tamara Tunie film, stage, and television actress, director, and producer.
For additional information about A Night With Crossroads Theatre Company honoring Denzel Washington, along with sponsorship and ticket pricing levels, please visit www.anightwithcrossroadstheatre.org.
Recent Posts
#ThinkTheatre
Theatre is provocative. It can challenge the dominant political and cultural narratives of the day.
---