News & Updates
Broadway's André De Shields returns to NJPAC to helm co-production with Crossroads Theatre Company.
NJPAC January 03, 2018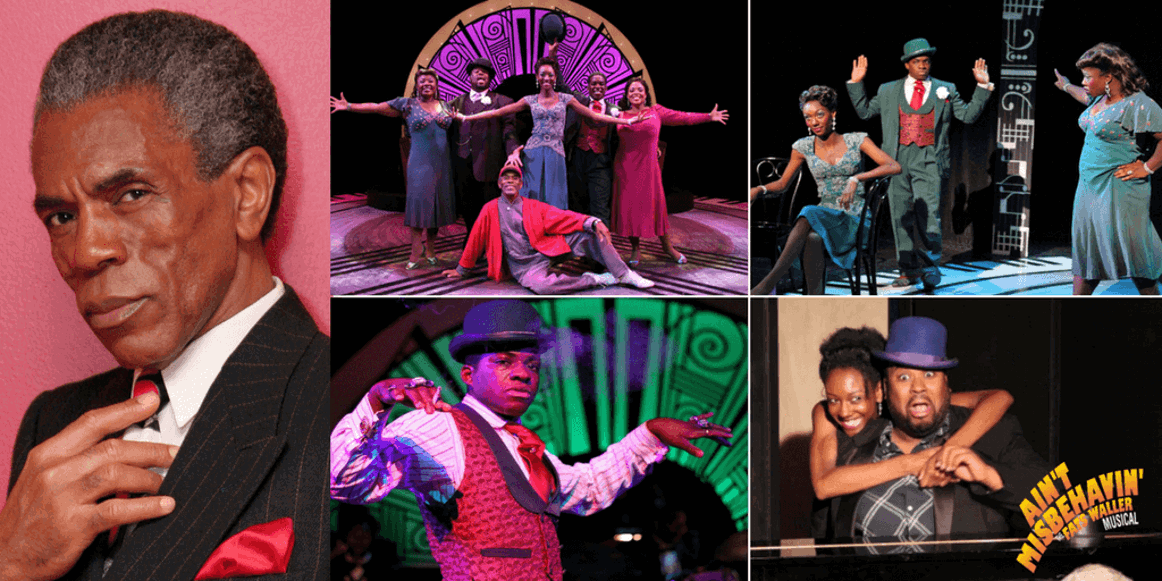 When NJPAC and Crossroads Theatre Company needed a director for their upcoming co-production of Ain't Misbehavin', they landed an artist who says the show is part of his "performing DNA."
André De Shields, the two-time Tony Award nominee and Emmy-winning actor, was an original cast member of Ain't Misbehavin' when it opened on Broadway in 1978 and swept up a few Tonys, including best musical. Nicknamed "the Fats Waller musical," Ain't Misbehavin' sashays into NJPAC's Victoria Theater for six performances, February 1 through 4.
In the past, De Shields has circled back to the show as a director-choreographer and a mentor to those who don the pinstriped suit and bowler hat of the character he created. Ain't Misbehavin' "left a cookie on my soul," says the Baltimore native, comparing his affinity for the musical to an everlasting imprint.
Marshall Jones III, Producing Artistic Director of Crossroads Theatre Company, came up with the idea of reuniting De Shields with the show for a run during his theater's 2011-12 season. Crossroads, the recipient of an outstanding regional theater Tony, is currently on the move, staging its Afrocentric productions at different venues, including NJPAC, until the completion of a new performing arts complex in New Brunswick.
"No one on this planet understands and appreciates this show better than André," says Jones, who refers to him as "a vital treasure." "He's been involved since its inception and the last time we produced the show, it was clear that his vision successfully captured the music and the culture of Fats Waller, and the historic time of his music."
That time would be the Harlem Renaissance. Set in a smoky jazz club of the '20s and '30s, Ain't Misbehavin' features a cast of five singer-dancers who unroll back-to-back blues, soul and honky-tonk numbers by stride pianist Thomas Wright "Fats" Waller and other composers of the era. In addition to the title tune, the score includes "Black and Blue," "Honeysuckle Rose," "Ladies Who Sing with the Band" and "The Viper's Drag" (The Reefer Song), the last being De Shields' mesmerizing reptilian solo, inspired by Eastern dance. TV viewers of the Seventies are likely to recall commercials of the effervescent, late Nell Carter belting "The Joint Is Jumpin'," the Act One closer.<
Some audiences leave Ain't Misbehavin' with the impression that they've seen a full musical biography about Waller. But the book by Murray Horwitz and original director Richard Maltby, Jr. is minimalist, intended to thread the songs and differentiating it from a revue. The names of the characters are taken from the first Broadway cast: André (De Shields), Nell (Carter), Ken (Page), Charlayne (Woodard) and Armelia (McQueen).
De Shields, a veteran of such Broadway musicals as The Wiz (1975), Play On! (1997) and The Full Monty (2000), was reached by phone shortly before rehearsals began for a straight play, Robert O'Hara's Mankind at Playwrights Horizons; he'll be commuting back and forth across the Hudson to switch hats for each production. The prospect of being introduced to a third generation of Misbehavin' players yet to be cast, he indicates, was irresistible.
The players include Johmaalya Adelekan (Ragtime), Zurin Villanueva (Mean Girls; Shuffle Along) Rheaume Crenshaw (Groundhog Day), Antwayn Hopper (Hair), and an actor to be announced.
"(Cast members) take over the exquisite job of sharing not only the genius of Fats Waller with the world, but also the gift of American classical music, which is jazz. … There's so much in Ain't Misbehavin' that is a teaching moment beyond being a performer in a successful show. There is American history in that show, which is, of course, the Harlem Renaissance," De Shields says.
"I'm definitely going to leave my stamp on the choreography, as I did in the 2011 production," he continues, then elaborates on the part he played. "Because the character requires mystery, I'm going to keep the elements of Balinese dance … and when you see those undulating fingers and those gyrating hips, and you can't associate it with anything that's familiar to Western culture, it helps to sell the moment of 'The Viper's Drag' (The Reefer Song)."
De Shields' louche moves slinked into living rooms nationwide via an NBC broadcast in 1982; both he and his friend Nell Carter earned Emmy Awards for their portrayals, which were first developed in a 64-seat cabaret space owned by Manhattan Theatre Club.
David Rodriguez, NJPAC's Executive Vice President and Executive Producer, says when Crossroads landed a temporary home at the Arts Center for these performances, it was a winning combination. De Shields thinks the 500-seat Victoria Theater is an ideal fit for the show. (NJPAC audiences may remember his appearance as Zeus in Prudential Hall five years ago during an orchestral performance of The Creatures of Prometheus.)
"André De Shields has been a hero of mine in theater since he was the original Wizard in The Wiz on Broadway," Rodriguez says, "and continues to be one of the most creative forces related to the development and reimagining of new work."
In 1999, De Shields directed Play On! at Crossroads with Leslie Uggams and Stephanie Mills, a Duke Ellington musical he wouldn't mind revisiting someday. But in the meantime, he believes Ain't Misbehavin' is blessed as "a show with long, sturdy legs" and all-ages appeal.
"I thought this would be my chance to finally cleanse myself of all that had been living in me since 1978, if for no other reason by simply passing the mantle on to another generation of performers," says De Shields, recalling the first time he directed Ain't Misbehavin', then, adding with self-deprecating humor, "So now that I'm going to collaborate with Marshall Jones again, it's simply because he appealed to my ego. He said after the production in 2011, 'I can't imagine anyone else doing this.'"
Recent Posts
#ThinkTheatre
Theatre is ethereal. What happens on any given night only happens once.
---