News & Updates
American Heroes – Remembering John Lewis and C.T. Vivian
July 21, 2020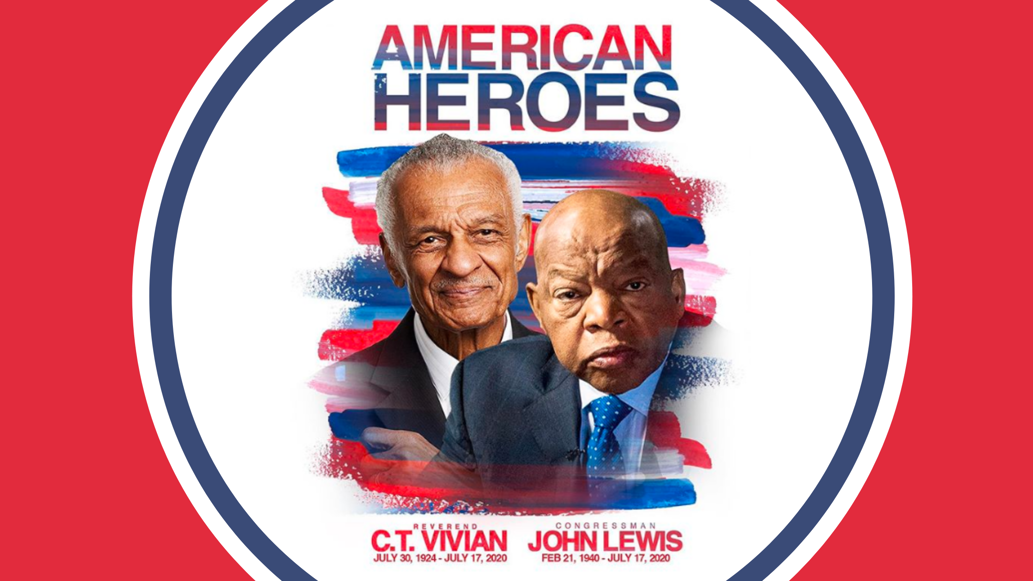 "Without the arts, without music, without dance, without drama, without photography, the civil rights movement would have been like a bird without wings." – Rep. John Lewis (D-Georgia)
Ruby Dee and Ossie Davis, James Baldwin, Harry Belafonte, Joan Baez, Lerone Bennet Jr., Tony Bennett and Gordon Parks were among the voices of the movement, painting the picture of the struggle to clinch the basic rights of equality for black people and others of color through words, music and drama. Crossroads Theatre Company was founded on the calling of that history and today we mourn the passing of Congressman Lewis and Rev. C.T. Vivian, among the storytellers and standard bearers of a tumultuous time in our nation, then and now.
Both Lewis and Vivian tirelessly advocated side-by-side with Rev. Dr. Martin Luther King, putting their lives on the line for racial equality. Fifty-nine years ago they were Freedom Riders making the perilous history-making journey through the south in the fight for equal justice. Today, there are few living who were part of the marches, sit-ins and other protests that brought the kindling to maintain the eternal flame of non-violent inspiration and aspiration for social justice and equality.
Crossroads Theatre Company is proud of our ever-present mission to keep yesterday's stories and voices alive and relevant in tandem with the causes younger generations are lifting today that fuels our spirits and compel us to press on, teach, enlighten and inspire. During our season next year we look forward to celebrating the 60 th anniversary of the Freedom Riders by telling the story about what motivated them to stand tall and strong and how people coming together taking risks for change brings change.
Both men spent their lives championing the Voting Rights Act of 1965, with Lewis' leadership at the forefront of congressional actions, once he was elected to the House of Representatives, to restore sections of the Act that now accommodates acts of voter suppression in states around the country. "The vote is the most powerful, non-violent tool we have in a democratic society. We must not allow the power of the vote to be neutralized," Lewis said.
As we celebrate the lives of these drum majors for justice, we ask two things: please keep Lewis' words in mind and make "good trouble" as we approach the most important election of our time, at all levels of local, state and federal leadership; and encourage your federal Senator to pass the bill to restore the Voting Rights Act that has been sitting in the Senate for more than 200 days.
"Well done, good and faithful servant..," Matthew 25:21
Rest in power, Congressman John Lewis and Pastor C. T. Vivian
Recent Posts
#ThinkTheatre
Theatre is ethereal. What happens on any given night only happens once.
---