News & Updates
Am I living or simply alive?
Rev. Dr. Danté Quick January 15, 2022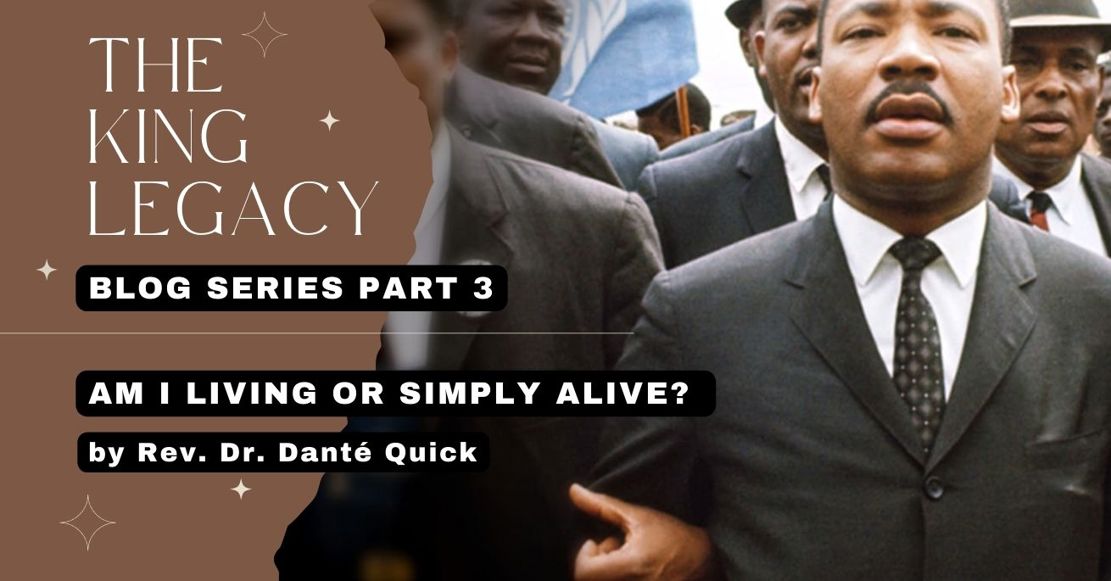 In commemoration of the Rev Dr Martin Luther King Jr holiday, Crossroads offers a series of reflections from the Rev. Dr. Danté Quick.
If I should die tonight
Though it seems far before my time
I won't die blue
'Cause I've known you
Ooh, oh, how many eyes have seen their dream?
How many arms have felt their dream?
How many hearts, baby, have really felt their world stand still?
Ooh baby
I know millions never, baby
They never, never
And millions never will, oh girl
They never will
If I should die tonight, love
Darlin', please, keep this thought in mind
I won't die blue
'Cause I've known you
Marvin Gaye – If I Should Die Tonight
Some die a slow and sad death! They wake and sleep with nothing of centering and critical concern occurring in their conscience. These are those who are trapped in a self-centered cycle of seeking the things that tender no true meaning. Trapped in the superficial dramas that are fueled by Western capitalism, they are imprisoned by drives that never delve into anything Divine.
Some only know death when their vital organs cease to function. They have found power in purpose and are present in a daily deluge of dynamism! They exemplify the life lyricism of the prophet known as Marvin Gaye! They can exclaim with a concrete consciousness and clarity… "If I should die tonight!!" They have seen and felt their dream! Only then…only in that moment…is true freedom achieved! Love offers license to liberation; it opens the door to participation in the process with power. Such was the life and legacy of the Rev. Martin Luther King, Jr., Ph.D. He lived so fully in his dream that death could not snatch his life.
In an April 27, 1960 essay entitled "Suffering and Faith" with Christian Century Magazine, King offered insight into the inner workings of his psychic struggle:
Due to my involvement in the struggle for the freedom of my people, I have known very few quiet days in the last few years. I have been arrested five times and put in Alabama jails. My home has been bombed twice. A day seldom passes that my family and I are not the recipients of threats of death. I have been the victim of a near fatal stabbing. So in a real sense I have been battered by the storms of persecution. I must admit that at times I have felt that I could no longer bear such a heavy burden, and have been tempted to retreat to a more quiet and serene life. But every time such a temptation appeared, something came to strengthen and sustain my determination. I've learned now that the Master's burden is light precisely when we take His yoke upon us.
Unfortunately, we have reduced Dr. King to a civil rights icon while stripping him of the prophetic calling that provided the impetus for his leadership. As a third generation Baptist minister, King was driven by a deep desire to follow the calling of God! Like Moses or Muhammad Ali (aka Cassius Marcellus Clay Jr.), it was a higher power that directed his path for the betterment of the world around him.
What we need now more than ever is a prophetic community of faith that will take up the mantle of Dr. King. In recent years, the birth of the Black Lives Matter Movement has demonstrated the disaffection that a young generation of Black activists have/had with a collective Black Church that was/is more focused on building large sanctuaries or pastoral titles. Yet, a study of history will disclose that such is not a new phenomenon. Even in Dr. King's era, the bulk of Black Churches were not involved in the movement. This is proven in his leadership in starting the Progressive Baptist Convention along with the Rev. Dr. Gardner Taylor and others.
Why is the Church critical? The Black Church is the only wholly historically owned and operated collective economic organization in many Black communities. Historically, the Black church was the birthplace of the first Black insurance companies, burial societies, banks, schools/Black Colleges, and social net resources. It was the driving force for economic and social innovation and advocacy. In a time when proponents of "states' rights" are winning by publicly campaigning to restrict voting, reduce social services and gentrify historic communities, we must once again build internal safety nets for communal progress and self-reliance.
As we reflect on the legacy of Dr. King, it is critical that we ask of ourselves, am I living, or am I simply alive? What difference does my presence make in the lives of others? Institutionally, we must once again structure and occupy institutions aimed toward uplift. I am privileged that the people of the First Baptist Church of Lincoln Gardens are committed to being such an institution. All life is interconnected! One cannot truly live when everyone around them is dying.
---
About Rev. Dr. Danté Quick
Rev. Danté R. Quick, Ph.D., Senior Pastor of First Baptist Church of Lincoln Gardens, Somerset, New Jersey is a popular lecturer and writer. He is well known for his research and expertise in Philosophical and Systematic Theology with a focus on African American Studies. His work is considered an important resource for religious educators.
---
Lyrics from "If I Should Die Tonight," written by Ed Townsend and Marvin Gaye. Performed by Marvin Gaye. From the album
Let's Get It
On released by Tamla Records.
---
Recent Posts
#ThinkTheatre
Theatre is explosive. There's no energy like the energy you get when you mix live performers with a live audience.
---