News & Updates
Academy Award Nominee loves "Single Black Female"
Marshall Jones, III October 14, 2016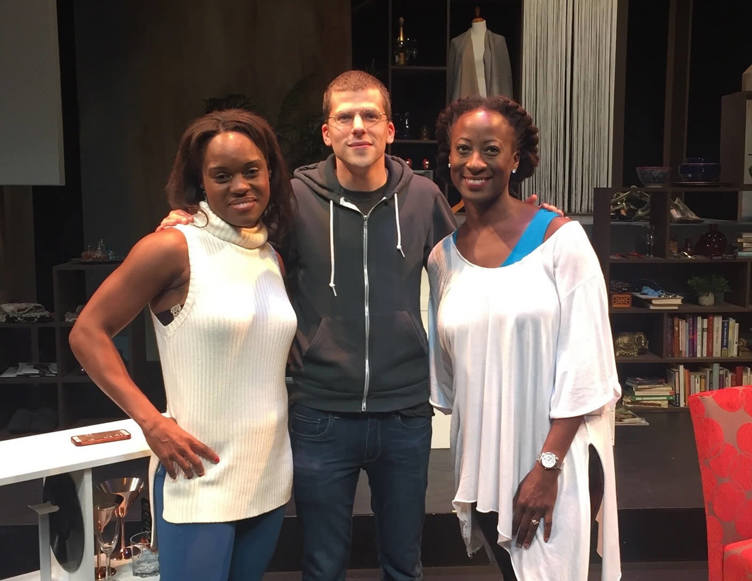 Social Network Academy Award Nominee Jesse Eisenberg came to see "Single Black Female" at Crossroads last night. Mr. Eisenberg is a fan of Crossroads and has seen shows here before "I really like the show, it really expressed how much different races have in common." Having grown in East Brunswick Jesse is familiar with Crossroads and enjoys attending. "You guys do good work."
Jesse Eisenberg recently starred opposite Ben Affleck in the recent Batman V Superman: Dawn of Justice and starred in Café Society directed by Woody Allen, which opened the 2016 Cannes Film Festival.
The reviews are coming in for SINGLE BLACK FEMALE, and it's a hit!!
"The show is imagery. It was incredibly powerful and moving. It open my eyes an enlightened me."

~ Qur'an Rawlins
Harlem, NY
"It surprises you with the humor. It's a relatable show for a lot of different people, so don't let the title confuse you. It's a funny night at the theatre; you can't go wrong!"

~ Nina Scott
"The largely engaging time that we spend with thirty-something "sistas" ... is generally frisky and often funny ... absolutely terrific performances by Daphne Gaines and Stephanie Weeks."

~ Simon Saltzman
Experience the exhilarating power of Lisa B. Thompson's triumph that Broadway World's Marina Kennedy calls "Single Black Female a theactrical gem."
Single Black Female runs for 90 minutes with no intermission at Crossroads Theatre Company through October 23rd. The theatre is located at 7 Livingston Avenue, New Brunswick in the heart of the city's vibrant entertainment and dining district, convenient to mass transit and local parking.
Recent Posts
#ThinkTheatre
Theatre is movable. Great performance experiences can be staged in warehouses, basements, bars, parks, cars, beaches and elevators.
---