News & Updates
Now Hiring: Managing Director
Job Openings October 23, 2023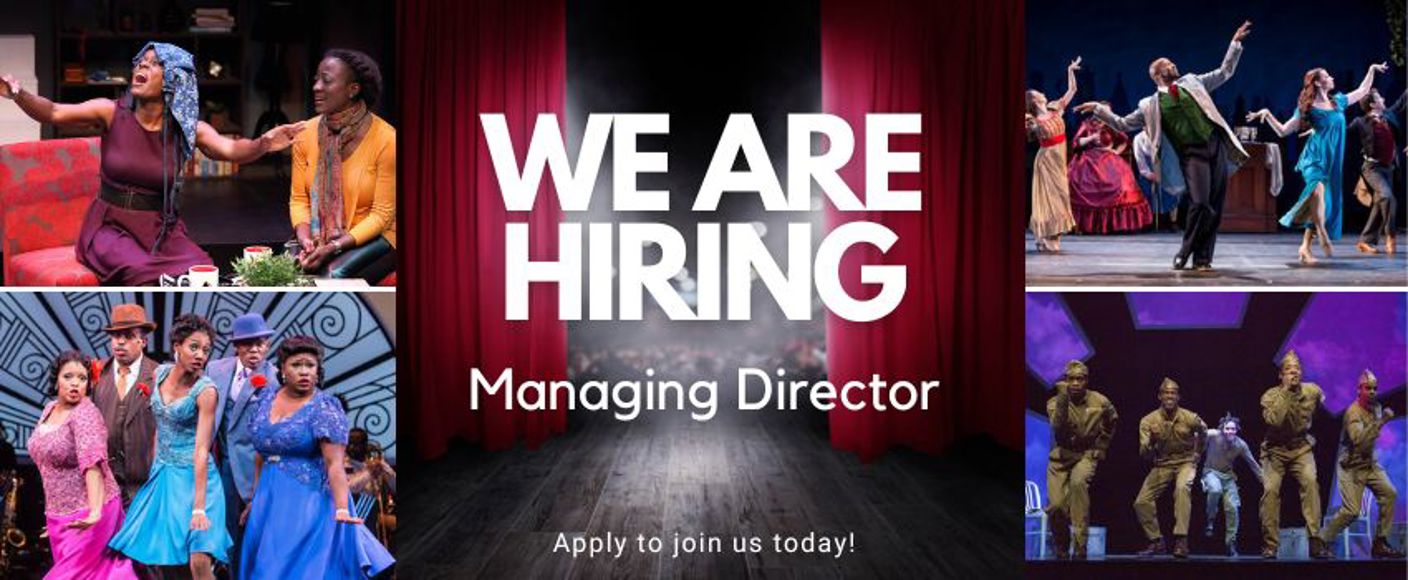 Mission Statement
The Crossroads Theatre Company is dedicated to artistic excellence in the creation and production of professional theater that:
Celebrates the culture, artistry and voices of the African Diaspora;
Provides a nurturing, professional working environment for writers and artists in the development of plays created and interpreted through the lens of the Black experience;
Presents authentic portrayals of people of color in this country and from around the world in order to inspire, educate, ignite imagination and promote healing in our society;
Promotes a deeper, more informed cross-cultural conversation on community, our interconnectedness, the histories we share and don't share, the human condition today, and the world we strive to build for tomorrow.
Background
Crossroads Theatre Company (CTC), recipient of the 1999 Tony Award® for Outstanding Regional Theatre in the United States, is the nation's premiere African American theater. At the time of its founding, Crossroads was known for its commitment to nurturing new works by African American actors, playwrights, directors, and other theater professionals when such opportunities were limited. CTC became a beacon and a vital platform for emerging playwrights to workshop and stage their plays, share their stories and contribute to the growth of African American theater literature. Crossroads has filled an otherwise empty space on the cultural canvas of the country and the world, with a collective body of work that remains unparalleled by any other theater in the nation. Crossroads forged its vision into reality through the development, production and touring of new works from throughout the African Diaspora, and positive imaging of African American life, history and culture. These honest theatrical portrayals helped move the consciousness of the nation forward and into the twenty-first century by building bridges of understanding and veracity between people of all backgrounds in this society and the world.
Crossroads is a resident of the new, state-of-the-art, New Brunswick Performing Arts Center. With an historic devotion to producing theater that examines the Black experience in ways that can be appreciated by people of all backgrounds, Crossroads continues to stand committed to artistic excellence and cultural authenticity as a leader in today's American theater movement. Crossroads' Tony Award and the fact that the organization is now celebrating its 45th season are both indicative of the perseverance and vision of those who continue to guide and support the theater. Both are of great significance, not only to the immediate Crossroads family of staff, subscribers and patrons, but also to the City of New Brunswick, the State of New Jersey, the nation and the legacy of Black theater itself. When co-founders Ricardo Khan and L. Kenneth Richardson envisioned a space where, as actors, the two young men could work on substantive, non-stereotypical roles, little did they realize that their vision would grow into the major institution that it is today.
Position
Crossroads Theatre Company is on a mission to revitalize its legacy and write a new chapter of success. To achieve this, we are in search of a dynamic, innovative, and visionary individual to assume the role of Managing Director. This role involves co-partnering with the Theatre's Artistic Director and co-founder, Ricardo Khan, to not only breathe new life into this landmark institution but also to shape the very future of theater. The ideal candidate excels in a vibrant and ever-evolving environment and is driven by the opportunity to leave an indelible mark on the organizational design of a theater and to pave the way for the theater of the future.
As a trusted advisor, the Managing Director assumes a highly strategic and facilitative role that demands a unique blend of operations expertise, political acumen, collaborative skill, ambition, and exemplary communications abilities. Moreover, the ideal candidate excels at cultivating a dedicated staff that can effectively engage with diverse stakeholders in our community. We value the importance of differing opinions and perspectives to ensure that our business continually delivers outstanding results.
As a key member of our executive team, the Managing Director collaborates closely with the Artistic Director, reporting directly to the Board of Directors. This role entails overseeing daily administrative functions, leading development and sustainability efforts, strategic planning, and community relations. Under their purview, the Managing Director will oversee the Development Director, Marketing and Communications Director, Box Office and Facility Operations, and Bookkeeper. This role also focuses on leveraging the opportunities presented by enhanced online and post-pandemic audience engagement. The Managing Director will assume responsibility for the organization's financial matters, covering both earned and contributed revenue.
If you are prepared to embark on this exhilarating journey of transformation and innovation, we want to hear from you and we eagerly invite you to apply to be part of our team at Crossroads Theatre Company.
Responsibilities
Though not an exhaustive list, the Managing Director is responsible for the following:
Strategic Leadership
In conjunction with the board, Artistic Director, and staff, develop and execute the theater's strategic plan; This includes conducting competitive strategic analysis and aligning resources and efforts with the organizational mission and values.
Lead and drive development efforts, instilling a strong culture of philanthropy within the CTC community. Establish clear performance metrics, continuously monitor results, and assist the Board in evaluating the effectiveness of the development program on an ongoing basis.
As an ex-officio member of the board; actively participate in various board committees, including the executive committee, finance committee, strategic planning committee, development committee, and other relevant committees as needed.
Enhance and revitalize the theater's visibility within the New Brunswick community, greater Middlesex County, and the Tri-State area. Act as a dedicated ambassador for the organization at large.
Partner with the Artistic Director to set priorities and objectives for CTC's' staff. Foster a transparent, cross-functional working environment and promote a positive, equitable, and inclusive organizational culture that encourages open communication and alignment around the CTC's priorities and goals.
Commit to attending company functions, which may occur on weekends and evenings, such as first rehearsals, design runs, first previews, and opening nights.
Ensure that box office and other front-of-house activities show sensitivity to patron needs; emphasize the importance of creating a positive and accommodating experience for those attending the theater, making sure their needs are met and that they feel valued as patrons.
Take the lead in negotiating and executing all contracts on behalf of the organization.
Serve as the main contact to various unions including but not limited to Actor's Equity Association (AEA), United Scenic Artists and the Stage Directors and Choreographers (SDC).
Relationship Management and Donor Stewardship
Craft and lead a comprehensive development strategy that drives fundraising efforts and engages donors deeply. Employ diverse acquisition strategies to expand our supporter base at all levels and meet development goals. This includes leading and providing guidance on special campaigns, feasibility studies, forming partnerships, securing foundation support, and fostering individual giving to support our mission.
Act as an ambassador for CTC, and a partner to the Board, to cultivate major donors, sponsors, foundations and corporate leaders for ongoing support; represent Crossroads at donor meetings and events, collaborating on solicitation programs and fundraising opportunities with senior leadership.
Ensure strict compliance with all relevant regulations and laws. Uphold accountability standards to donors and adhere to the code of ethical principles and standards of professional conduct for fundraising executives.
Facilitate interdepartmental and cross-functional collaboration between Development, Marketing and Communications, Finance, and Program teams that results in a collaborative approach to conveying Crossroads' impactful "story."
Supervise the timely preparation and delivery of necessary financial budgets and reports to funders, meeting their specific requirements and expectations.
Financial Management and Operational Leadership
Assess current financial and human resource policies, decisions and practices to guide organizational improvements.
Oversee financial reporting and recordkeeping, including leading the budget process and establishing performance metrics; prepare and present financial results to the Board on an ongoing basis.
Ensure the organization creates and adheres to operating and financial procedures in accordance with Generally Accepted Accounting Principles (GAAP) and other financial controls.
Recruit, hire and supervise administrative positions and assist the Artistic Director as needed for production hiring; review and update personnel policies to comply with applicable laws.
Supervise the creation and management of employment contracts, including those for actors, writers, directors, designers and other creatives, technical staff and unions.
Review and maintain a comprehensive personnel policy in accordance with applicable laws; make changes as necessary.
Team Development & Management
Build and lead a best-in-class team with a high level of professionalism and dedication; provide inspirational leadership and direction that ensures a high-performing organization.
Cultivate a culture rooted in accountability, trust, and collaboration, that welcomes change and ensures equal opportunities for team members. Lead by example, fostering respect, support, stability, and positivity, and keeps the team connected to institutional priorities and informed about senior leadership decisions.
Drive team effectiveness, productivity, and collaboration by serving as a coach and mentor.
Qualifications
Beyond unwavering dedication to Crossroads Theatre Company's vision and values, the ideal candidate should exhibit the following skills and attributes:
Experience in the performing arts or the Black arts arena is preferred. A solid foundation in or a deep appreciation for theater, theater history and the humanities are valuable assets.
Bachelor's degree in a relevant discipline preferred with 5-10 years in financial management, fundraising or relevant sales or producing experience, and at least six years of increasingly responsible managerial experience.
Experience in founder's organizations with an understanding of unique partnership dynamics.
A "big-picture thinker" with proven success moving from conceptualization, managing multiple iterations of the concept, to goal-oriented implementation and clear execution; ability to set the vision and to develop and promote the strategies needed to advance the work.
Demonstrated expertise in effectively managing an organization's finances, including budgetary control, resource allocation, and maintaining a strong financial position.
Proficient fundraiser with in-depth knowledge of building and executing a development infrastructure to achieve strategic and annual goals; proven ability to nurture and steward relationships with key donors, foundations, corporations, and potential supporters.
A proven track record in building effective internal teams to drive strategic priorities.
Superior interpersonal and leadership skills; possess persuasive presentation abilities, and strong written and verbal communication skills.
Effective team building, facilitation, and organizational skills, complemented by proactive, creative problem-solving capabilities.
Possess exemplary judgment, discretion, particularly in handling sensitive information; possess the qualities of diplomacy, discretion, proactivity, direct communication, exceptional project management skills, and an unwavering commitment to the vision and values that Crossroads Theatre Company holds dear.
Strong technology skills, including fluency with donor databases (especially Tessitura), presentation, and team management software (including but not limited to Salesforce, Asana, Slack, PowerPoint, Google Workspace, Dropbox, Zoom, and Excel).
Compensation and Benefits
This is a full-time position with occasional weekends and nights (flex time offered accordingly). Crossroads Theatre Company is offering a salary of $100,000 - $110,000 commensurate with experience. The range listed is one component of the total compensation package for employees. In addition, Crossroads Theatre Company will offer a comprehensive benefits package that includes vacation, personal/sick days, 100% employer paid health, vision and dental insurance for individuals, and professional development.
Location
This is a hybrid position, with arrangements on the number of days at Theatre vs home to be discussed. Must be based in the NJ/NYC area. Proof of vaccination is required for employment.
Other
Physical Demands:
The day-to-day operations of this role require the use of a professional laptop device, as well as the ability to appear and participate in video conferences. This role requires the employee to report to the main office as well separate event locations.
While performing the duties of this position the employee may perform such movements as standing, walking, reaching with hands and arms, climbing or balancing, stooping, kneeling, crouching or crawling. The employee may occasionally lift and/or move up to 25lbs.
Appropriate accommodations can be made.
Sight & Vision Demands
While performing the duties of this position the employee may use specific vision abilities including close vision, distance vision, color vision, peripheral vision, depth perception, and adjusted focus.
Appropriate accommodations can be made.
Language Proficiency:
Professional proficiency in English is required and individuals who have working proficiency, or more, in Spanish are strongly encouraged to apply. Any proficiency in other or additional languages is most welcome.
Sound Environment:
The noise level in the work environment is usually moderate, though noise levels can increase dramatically during production periods.
Appropriate accommodations can be made.
Commitment to Diversity, Equity, and Inclusion
This position description is based upon material provided by Crossroads Theatre Company. Crossroads Theatre Company is an equal opportunity employer and makes all employment decisions on the basis of merit, qualifications, and abilities. The Organization shall recruit, hire, train, and promote in all job titles, including interns, apprentices, and volunteers, without regard to race, color, sex (including pregnancy), religion (including religious dress or religious grooming), age, national origin or ancestry, physical or mental disability, medical condition, genetic information, sexual orientation, military and veteran status, or any other consideration made unlawful by federal, state or local laws ("protected characteristics").
TO APPLY
Gates Consulting Group has been exclusively retained for this engagement. Please submit a resume to ManagingDirector@crossroadstheatrecompany.org. To be considered, a compelling cover letter must accompany your resume.
Gates Consulting Group
Gates Consulting Group is a Talent Advisory firm specializing in executive search for nonprofit organizations, with a focus on the arts and cultural sector. We excel at identifying exceptional talent that meets rigorous criteria and contributes to closing the cultural equity gap and fostering a sense of belonging.
Our core commitment is twofold: sourcing the most qualified candidates and representing underrepresented people in arts leadership. We further support our clients in onboarding and retention strategies, endeavoring to ensure an environment where all individuals can belong and thrive.
Eboni Gates, Principal Consultant
Recent Posts
#ThinkTheatre
Theatre is knowledge.
---